HSBC aspires to be a leader in financing, managing and shaping the transition to a low-carbon world.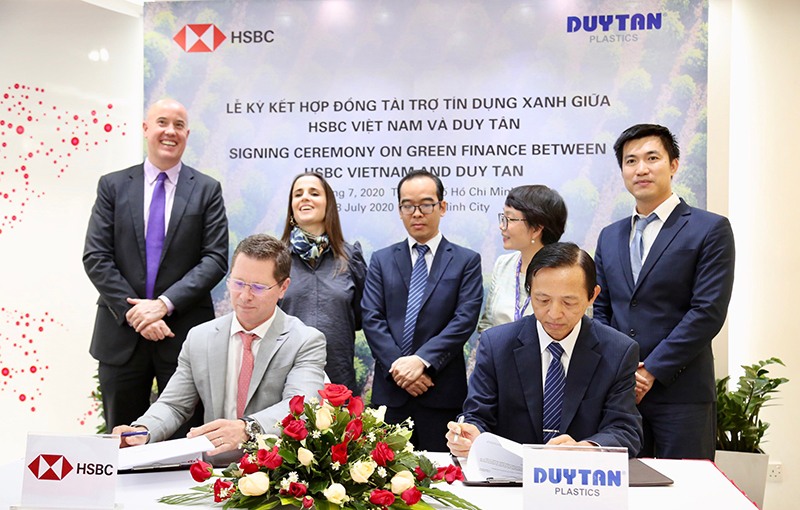 From sustainability to business growth
At HSBC, sustainability means building businesses for the long term, forging growth and fostering sustainable development. We are committed to partnering with clients in the transition to a low-carbon economy for a sustainable future.
Sustainable finance
HSBC recognises the important role that finance has to play in creating sustainable growth, having been named the World's Best Bank for Sustainable Finance in Euromoney's annual Awards for Excellence 2020.
We are here to help businesses advance towards a sustainable economy by providing financing support based on integration of environmental, social and governance (ESG) criteria, to support the UN Sustainable Development Goals (SDGs) and to combat climate change.
HSBC Vietnam and Duy Tan sign the first green deal
How a green financing deal with HSBC helped a plastics company open a recycling factory
After more than three decades of producing plastic packaging for the world's leading brands, Duy Tan Plastic Corporation is about to reach a milestone this year. It will open the only plastics recycling factory in Vietnam (a market where just 27 percent of the country's nearly 2 million tonnes of annual plastic waste is recycled1) that applies a "bottles to bottles" process, reconditioning used plastic bottles into a new generation of packaging. "We have 34 years of experience in the plastic industry, but recycled plastic is totally new and different for us," says Anh Le, vice president at Duy Tan. "We were determined to do this for our customers." They include global companies that are looking to reduce the amount of virgin plastic content in their products, prompting Duy Tan in 2018 to start planning its recycling factory. Eventually, the plant will produce some 8 billion bottles per year from the recycled plastic grains. Duy Tan was determined to become more sustainable, and not only for its customers. The company recognised the threat that plastic waste poses for Vietnam, which is one of the top five countries in the world that together account for about 60 percent2 of plastic pollution in the oceans. Additionally, as Vietnam's government is cracking down on plastic pollution, Duy Tan wanted to be ahead of any potential requirements. Beginning in 2022, factory owners will be required to control pollution and limit their environmental impact.3 By 2025, Mr Le says the government is expected to impose additional environmental taxes.
Mr Le says he knew the shift would be challenging, in particular learning about and applying plastics recycling and then persuading a province to accept the project. But Duy Tan, which takes pride in its quality control measures and technical prowess, seeks out innovation and isn't afraid to break barriers, says Stephanie Betant, country head of wholesale banking, HSBC Vietnam. "When we heard about Duy Tan's plan to build a recycling plant, the opportunity to do some green financing was an obvious one," says Ms Betant. "We knew it was an innovative company. We knew they had the right project, and we had a relationship so we understood the credit and risk."
As a leading Vietnam's brand in plastic industry, contributing to the greening of our home country by curbing plastic waste is our obligation. We hope that the new factory, with the financing of HSBC, will support us in our strategy of sustainable development and continuing bringing more long-term values to our consumers and community.
As part of its pledge to provide between USD750 billion and USD1 trillion in finance and investment to support green companies and projects by 2030, HSBC partly backed Duy Tan's USD60 million project with green financing. HSBC Green Loans support businesses and investments in projects that provide clear environmental benefits and contribute to sustainable growth. To qualify, Duy Tan follows four core principles jointly issued by Loan Market Association and Asia Pacific Loan Market Association: borrowers must use proceeds for a green project; explain how it fits into their company's environmental sustainability objectives; track management of proceeds; and annually report on its impact4. In return, qualifying businesses get support and consulting from HSBC, extending a company's prospects of accessing international capital. The cost of achieving net-zero emissions is a common pain point for businesses. However, in many ways, sustainability efforts are now providing a competitive advantage, as consumers and consumer product companies signal their willingness to pay more for eco-friendly products. Some of Duy Tan's customers, for instance, said they would pay up to 20 percent more for recycled material. Still, the prospect of overhauling a business or building new product lines that embrace sustainability can be a daunting task that involves a leap of faith—and patience—that the investment will be profitable. Organisations have to weigh the costs to their business. For Duy Tan, building a recycling factory was worth the effort. "It's not about making profit at this stage; sustainability is the priority," says Mr Le. "It's a long-term journey. But we want our operations to be more sustainable and we want to have a green, clean and beautiful Vietnam."
We are proud to work with Duy Tan to achieve a common goal of growing sustainable financing in Vietnam. As a key player in Vietnam's plastic industry, Duy Tan has proved to be in the forefront of innovation in all they strive for. With more than a decade of collaboration, we continue our journey in bringing innovation to Vietnam. We hope that Duy Tan will pave the way for Vietnamese corporates in growing green financing and sustainability for Vietnam's economy.
Written by The Economist Intelligence Unit
Find out more about The Business of Sustainability